Business Growth Through Person Interaction
In simple terms this is presentation skills on a one-to-one basis, building rapport, asking key questions, valuing, enjoying and gather key intelligence from "small talk".  It is the second stage of the live marketing strategy and it is designed to provide a long-term relationship between a prospective customer/client and turning them into a customer/client.  It helps to be confident and comfortable talking to different people about what you do and how it can improve their business or their lives.  It is also important that techniques are used to find out the needs, desires and aspirations of your customer, where they are now, what opportunities they have to achieve their goals and what they are willing do for this to happen.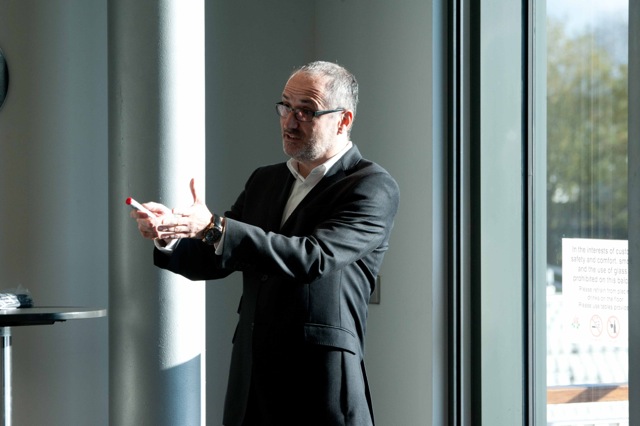 Alex Onalaja
Dear Ashley, On behalf of KYSO's leadership team and the director's board, we would like to say thank you. As our organisation approaches a new milestone of 100 members, I knew effective communication would be the key to our growing success. The leadership team feel empowered and ready to impart their new knowledge within their peer group and beyond. I have no doubts this will add value to their CV's when seeking professional employment. Following my personal experience participating in your iMA communication training, the way that I communicate with my clients and associates has become more efficient and has resulted in more meaningful and productive connections. Kind regards Alex Onalaja CHAIR OF THE BOARD
Duane Cormell
Ashley put on a fantastic introductory session on iMA for me and the team at Realm Recruit. Not only was it a thoroughly enjoyable morning - lots of smiling and laughs - but we all took some fantastic knowledge away with us that I've no doubt will make a big difference to us all.
Mark Goldman
As a firm of accountants, we rely on communication - both between ourselves and when dealing with clients. After meeting Ashley at a BNI meeting and hearing about his iMA courses, we asked him to come to our offices and deliver one to our team, to help us all understand more about it. Everybody really enjoyed the session and Ashey was a superb host. His training was both fun and very informative. He was also on hand to answer any questions we had. In fact, Barry, my business partner, and I still speak to Ashley about iMA regularly. As a client-facing organisation, it has fundamentally changed the way we think about our business. We are looking to re-structure based on a better understanding of how people communicate - putting the right people with the right tasks. Also, we have been able to segregate our client base to ensure the right people work with the right client to improve the quality of communication and ultimately the service we provide. This has made a huge positive impact in our business. I would recommend Ashley to anyone in business - especially anyone who wants to communicate better with the world. Ashley says he is "probably" the world's best business coach, we tend to agree. Mark Goldman
Robin Charrot
Testimonial regarding AML and iMA Training   This is a letter of thanks for your help in organising and running our company's anti-money laundering update and for you introducing our staff to iMA, both over a single day. You ran the training/learning day in a very entertaining way so that we had a full team engagement in the Anti Money Laundering part (which would otherwise be a very dry subject) and the staff had great fun in learning what iMA colour they are, what that means for their interaction with other team members, how to identify the iMA colour of someone new they deal with, and how they can adapt their communications with others to best effect. We will definitely be using iMA in the future in terms of how we engage with clients, and it will now feature prominently in our recruitment process. Robin Charrot For and on behalf of Evolve Family Law Ltd